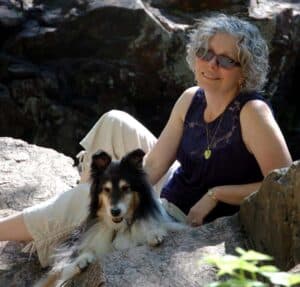 Kirsten is well known locally for gracing the boardwalk with her three Shelties. She has shown, competed and trained dogs for 16 years. In 2005-2013 she ran classes in all levels of obedience with a local kennel club. For the past 5 years she has worked at a local pet store where she provides nutrition advice having studied pet nutrition extensively. Her dogs have reached high levels in obedience and rally obedience. She has spent the last few months shadowing Brandie in order to refresh her own abilities in training. Her training focus is concerned with helping owners build a strong relationship with their dogs. She is especially interested in rehabilitating dogs from homeless shelters and rescue organizations. Her current dogs, Blaze, Prince and Swirl can be seen stepping out in all weathers. If you see them out and about feel free to say Hi!
Clicker Seminar (Rita Valiquette)- 2010
Clicker Training Seminar (Isobel Hutton, CKC Obedience Judge) – 2009
Scroll over each picture to see their accomplishments.
Want to see more of these adorable pups?
Would your dog benefit from training?